Sumitomo Machinery Corporation of America (SMCA) is celebrating the 50th anniversary of its North American headquarters, located in Chesapeake, Virginia.
Sumitomo Machinery Corporation of America is a subsidiary of Sumitomo Heavy Industries, one of the largest manufacturers of machinery in Japan and the global leader in power transmission knowledge and innovation. SMCA is the premiere power transmission and control solution provider and has customers across the U.S. and globally.
In 1987, Sumitomo relocated to Chesapeake from New Jersey and constructed a new manufacturing facility for the production of its cyclo drive technologies, speed reducers, speed variators, motors and related industrial gears.
Sumitomo has experienced consistent growth since joining the Commonwealth. In 2009, SMCA announced its first Engineering and Service Center would open in Chesapeake, and in 2012, they shared plans for the first phase of a three year investment strategy to transition their 250,000-square-foot facility from an assembly and distribution center to an assembly and manufacturing facility.
In August 2013, the company announced a definitive merger agreement with Hansen Industrial Transmissions Inc., a leading provider of large size industrial gear drives, which operates at the HNA facility in Verona, Virginia.
Since locating to Virginia, Sumitomo has invested over $60 million in the Commonwealth and has 264 employees in Chesapeake, Suffolk and Verona.
Virginia's strategic central location on the U.S. East Coast and access to the Port of Virginia has made an ideal home for Sumitomo.
To learn why more than 5,500 manufacturing companies like Sumitomo have chosen to locate in Virginia, click here
Mayor of Chesapeake Alan Krasnoff and Secretary of Commerce and Trade Maurice Jones recognize Sumitomo leadership during the anniversary event.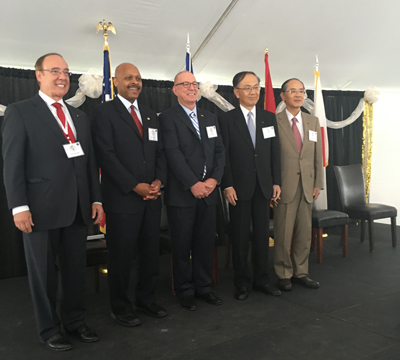 Source: Yes Virginia