This week, VEDP attended the SelectUSA Investment Summit, a high-profile event in Washington, D.C. dedicated to promoting foreign direct investment (FDI) in the United States. We had the opportunity to connect with companies all over the world to discuss the benefits of doing business in Virginia.Governor Terry McAuliffe hosted a Virginia reception to showcase the Commonwealth's assets and participated in a workforce development panel during the conference.Global investment supports nearly 487,000 jobs in Virginia. These direct FDI and related supply chain jobs earn higher compensation than the overall state average.
During SelectUSA 2015, VEDP met ELDOR Corporation for the first time. Following the Summit, Governor McAuliffe traveled to ELDOR's headquarters in Italy to meet with company leadership. Less than one year after first meeting at SelectUSA, ELDOR announced their plans to invest $75 million and create 350 new jobs at their North American regional headquarters in Botetourt County.
More than 700 internationally-owned companies call Virginia home, including Canon, Stihl and Rolls-Royce. Cost-effective operations, pro-business values, global logistics assets and easy access to the U.S. market are just a few of the unique resources that allow businesses to prosper here.
From 2009 to 2014, international companies announced more than 15,000 new jobs and $4.6 billion investment in the Commonwealth. To learn why companies choose Virginia for internal investment, click here.
Governor McAuliffe participated in a workforce development panel during SelectUSA.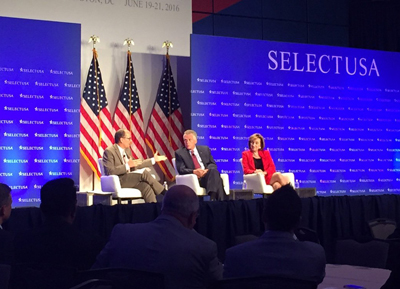 Source: Yes Virginia