Rapid Response?
In good and bad economic times – and in between – employers have different staffing needs. Rapid Response is a Virginia resource funded by the federal Workforce Innovation and Opportunity Act, operating under a grant from the United States Department of Labor that helps employers with employee hiring, downsizing and on site transition services.
Rapid Response for Your Business
Think about your company or organization's current climate. Are you in growth mode? Are you thinking that layoffs could be near, but you'd like to avoid them at all cost. The chart below shows services Rapid Response can provide depending on your business cycle.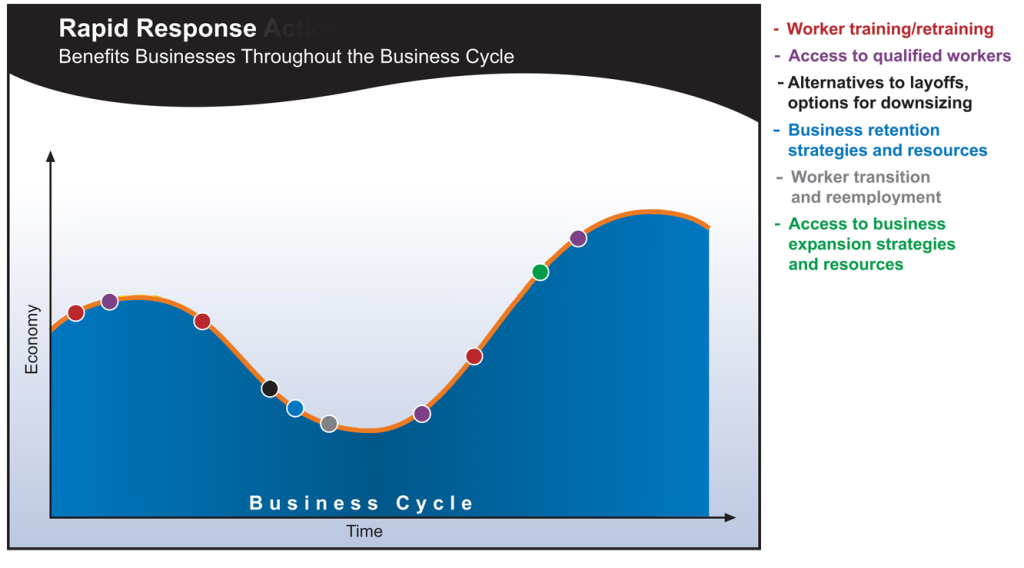 Training: Rapid Response steps in to assess the possibility of training your incumbent workforce for the skills you need them to possess during various times of the business cycle.
Access to Job Pool: When even training your own workforce isn't going to be enough to properly staff your company, Rapid Response can connect you with skilled workers in your field who may have been downsized or connected to Virginia's workforce system.
Avoiding Layoffs: For companies that are facing economic challenges, the Rapid Response Team can help assess strategies that may help turn a business around with information like, Business Retention and Layoff Aversion Strategy (apply here).
Assisting with Layoffs: Sometimes, layoffs are unavoidable. Rapid Response can be your on-site partner to make the situation as tolerable as possible for all involved. We can provide customized services according to a company's unique situation and help to inform those who are being laid off. The goal is to establish a working relationship so laid-off workers land back on their feet quickly.
Geographic regions: Rapid Response for layoffs is divided into four geographic regions, and employers work with a coordinator at a community college according to map above.
Tracking mass layoffs in Virginia: Federal legislation requires that, generally, companies with more than 100 employees provide advanced notice of mass layoffs. Rapid Response tracks those events, known as WARN notices, as part of our work.
More on Layoffs
The WARN Act Requirements
Questions about Rapid Response?
The statewide employer contact for Rapid Response is Brett Tavel. Please contact him at [email protected].